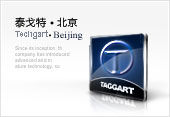 泰戈特 • 中国
泰戈特公司成立于2003年,公司成立之初,在引进吸收美国、澳大利亚等国际先进选煤设计理念和工艺技术的基础上,经过20年的科技研发和自主创新发展,在矿物加工及物料输送领域,已形成集设计、总承包、项目管理、生产管理运营服务、工业智能化、设备制造和技术咨询服务于一体的综合性科技发展公司,服务矿种从煤炭延伸到新能源矿产,镍矿、锂矿。公司是国家级高新技术企业和北京市"专精特新"中小企业,通过ISO9001:2015质量管理体系、ISO14001:2015环境管理体系、ISO45001:2018职业健康安全管理体系等权威认证,先后获得了多项专利技术:发明专利4项,实用新型专利47项及软件著作权19个,在国内主要期刊发表论文一百多篇。
TechGart was incorporated in 2003. At the beginning of the company's establishment, based on the advanced international coal preparation design concepts and process technologies from the United States, Australia, and other countries, together with 20 years of scientific research and independent innovation. It has developed into a comprehensive technological development company specializing in mineral processing and material transportation, encompassing design, EPC, project management, production management, and operation services, industrial intelligence, equipment manufacturing, and technical consulting services. The company's services have extended from coal mines to new energy minerals, nickel, and lithium mines. TechGart is recognized as a national-level high-tech enterprise and a Beijing "specialized, refined, peculiar, and new" small and medium-sized enterprise, and received the certificates of ISO9001:2015 quality management system, ISO14001:2015 environmental management system, ISO45001:2018 health and safety management system, and other authoritative certifications. TechGart owns four invention patents, 47 utility model patents, and 19 software copyrights and published more than one hundred papers in national core journals.
泰戈特承担了国内外100多座选煤厂及物料输送总承包项目的建设任务,其中原煤入洗能力在1000万吨/年以上的大型选煤厂超过27座,公司的业务遍布中国的主要产煤省份,入洗原煤总量超过5亿吨,客户主要集中在央企和大型国企。并积极开拓国际市场,先后获得美国、俄罗斯、印尼、蒙古国等多个项目,为国际客户提供了优质的产品和服务。
近几年,泰戈特合并了活跃在有色金属领域的选矿团队和业务,基于选矿设备制造能力,以及选厂总承包交付和选厂运营经验,致力于提供创新的红土镍矿预富集和国际一流品质的硬岩锂选矿"一站式"解决方案。
锂矿团队,已在四川省自主设计、交付,及托管运营了3座锂矿选矿厂,其中位于四川乐山的锂矿选矿厂为自主投资建设和运营。拥有完善的锂矿选厂生产运营团队。
红土镍矿预富集技术,公司与其它国际工程和技术公司合作,以工程联合体形式在菲律宾、印度尼西亚开展合作。
TechGart has built over 100 coal preparation plants and material handling facility EPC projects domestically and internationally, among which there are more than 27 large coal preparation plants with a raw coal capacity more prominent than 10 million tons per year. TechGart's projects are located in central coal-producing provinces in China, with a total natural coal-washing capacity of more than 500 million tons annually. Our customers include major Chinese government energy groups and some international coal groups from the United States, Russia, Indonesia, Mongolia, etc., with high-quality projects and services.
In recent years, TechGart has merged with mineral processing teams and businesses active in the non-ferrous metal sector. Leveraging its capabilities in mineral processing equipment manufacturing, as well as its expertise in delivering EPC projects and operating mineral processing plants, TechGart is committed to providing innovative "one-stop" solutions for the pre-concentration of laterite nickel ore and International first-class quality hard rock lithium mineral processing.
In lithium ore processing, the company's lithium ore team has independently designed, delivered, and managed three lithium ore processing plants in Sichuan Province, China. Among them, the lithium ore processing plant in Leshan, Sichuan, was independently invested, constructed, and operated by TechGart. The company boasts a proficient team specialized in lithium ore processing plant engineering and operation.
TechGart collaborates with other international engineering and technical companies through an engineering consortium to conduct cooperative projects in the Philippines and Indonesia regarding the pre-concentration technology for laterite nickel ore.
同时,泰戈特与太原理工大学深度合作,精耕煤炭清洁高效利用领域,开发煤炭脱硫提质技术,建立了洁净燃料工程研究中心和成果转化中心,研发实验室拥有完善的煤基洁净燃料制备、表征以及燃烧评价装置与仪器设备。经过十余年的研发积淀,"煤炭催化加氢脱硫/增粘提质技术"获得国际领先水平成果鉴定。
Simultaneously, TechGart has sincerely cooperated with the Taiyuan University of Science and Technology in clean coal technology and efficient utilization and developed coal desulfurization and upgrading technology. We jointly established a clean fuel engineering research center with a fully equipped laboratory and instruments for the preparation, characterization, and combustion evaluation of coal-based clean fuels. Through over ten years of research, the "Coal catalytic hydrogenation to achieve dual functions of desulfurization and caking property enhancement to improve their quality" has been certified as an internationally leading achievement.
此外,泰戈特拥有环境工程(固体废物处理处置工程)专项甲级设计资质,并与北京化工大学成立"固废资源化联合研发中心"和"博士工作站",成立有机固废与生物天然气研究团队,致力城市、乡村的餐厨垃圾、畜禽粪便、农作物秸秆、工业有机废渣、高浓度有机废水等有机固废的资源化处理技术及系统装备研究与开发。开发出国内首台套撬装箱式干法厌氧发酵成套装备,并在有机固废资源化处理项目中得到成功应用。
Furthermore, TechGart owns the national First Class Qualification Certificate of Environmental Engineering (solid waste treatment and disposal project) and has established a "Joint Research and Development Center for Solid Waste Utilization" and a "PH Doctor Research Station" with Beijing University of Chemical Technology, and built a research team for organic solid waste and biological natural gas to commit to the research and development of resource treatment technology and system equipment for urban and rural kitchen waste, livestock and poultry manure, crop straw, industrial organic waste residue, high-concentration organic wastewater, and other organic solid waste. The first complete set of skid-packed box-type dry anaerobic fermentation equipment in China has been developed and successfully applied in the organic solid waste resource treatment project.
值得一提的是,泰戈特公司在天津投资建设了设备制造基地——泰戈特(天津)工业技术有限公司,属于天津市高新技术企业,厂区总占地面积55000平方米,车间25000平方米,办公楼5000平方米,拥有机床、测量仪器、动平衡机,焊接设备等百余台套,通过ISO9001质量管理体系认证,先后取得近20项专利。天津工厂能够制造多种选矿工艺中的关键设备,如:振动筛、离心机、磁选机、浮选机、压滤机、重介质浅槽分选机等。
Intriguingly, TechGart invested in and constructed its equipment manufacturing base - TechGart (Tianjin) Industrial Technology Co., Ltd., a high-tech enterprise in Tianjin. The factory covers a total area of 55000 square meters with a 25000 square meters workshop and a 5000 square meters office building. This equipment manufacturing base is equipped with over 100 sets of machine tools, measuring instruments, dynamic balancing machines, welding equipment, etc., with the ISO9001 quality management system certification and nearly 20 patents. The Tianjin factory can manufacture essential equipment in various mineral processing processes, such as vibrating screens, centrifuges, magnetic separators, flotation machines, filter press, and dense medium vessel.
泰戈特始终坚持以推动行业技术进步为己任,为客户提供更加优质的产品和服务。最终实现对用户价值的增值服务。
TechGart always insists on promoting the technological innovation of the coal preparation industry as its responsibility and provides customers with better products and services, ultimately realizing value-added services to our customers.
泰戈特不负所托,值得信赖!
TechGart lives up to its trust and is trustworthy!